Agnon School
Aurora Recreation Center
Avon Recreation Center
Beachwood Recreation Center
Bethesda Childcare Center
Fairmount Temple Early Childhood Center
Fairview Park Recreation Center
Gannon Gil Preschool
Goddard Schools - Akron, Avon, Chagrin Falls, Concord, Hudson, Jackson, Strongsville
Hathaway Brown Broad Horizons Camp
Hawken School Day Camp
Hudson Community Education and Recreation
KinderCare - Solon
Lake Ridge Academy Summer Camp
Le Chaperon Rouge - Westlake, Hudson, Rocky River
Mayfield Village Recreation Center
Mentor Heisley Fitness and Racquet Club
Middleburg Heights Recreation Center
Orange Community Education and Recreation
Park Synagogue Preschool
Ratner School
Solon Jewish Preschool
Solon Recreation Center
Temple Emanu El Day Care and Preschool
University School
Westlake Recreation Center
As a tennis player myself, I was initially skeptical about Little Racquets since I know that some professionals consider 3 and 4 year olds... read more.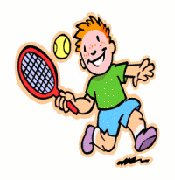 ---
To Whom It May Concern,

Here at the Goddard School we have incorporated the Little Racquets tennis program into our curriculum for pre-school age children...read more.
---
One of my favorite ways that I can tell that Maggie loves tennis day is that she always wants to wear her tennis T-shirt to school...read more.
Website designed by Riva Portman © 2007 - 2009